July 24, 2023 7:36 AM IST
Sawan 2023 Important Days: Sawan started from 4 July 2023. This year, Bhole Baba's favorite month Sawan will last for 2 months. Worshiping Lord Shiva on Mondays and some special dates in Sawan gives unending virtue.
Three Sawan Mondays have been worshiped in Shravan. Let's know now how many Mondays, Pradosh Vrat and which dates are left for worship of Bholenath in Sawan.
Main dates of Sawan 2023 Shiva Puja (Sawan 2023 Important Tithi)

30 July 2023 – Ravi Pradosh Vrat

This year there is also a coincidence of Adhikamas in Sawan. In such a situation, the Pradosh Vrat of the second month of Sawan is on Sunday, 30 July. Since it is Sunday, it will be called Ravi Pradosh Vrat. Pradosh fast is very dear to Shiva, on this day in the evening Bholenath dances on Kailash in a happy mood. It is believed that all the wishes of the one who worships Shiva at this time are fulfilled.
August 1, 2023 – Adhik Maas Purnima (Adhik Maas Purnima 2023)

Lord Shiva and Parvati are also worshiped on the full moon. Donation and fasting done on this day gives renewable results. Mangala Gauri fast will also be observed on the full moon of Adhikamas.
13 August 2023 – Ravi Pradosh Vrat (Ravi Pradosh Vrat 2023)

Ravi Pradosh Vrat is considered very important for achieving fame, fame and fortune. In such a situation, two Ravi Pradosh fasts will come in Sawan. On this day in the evening, anoint Mahadev with Ganges water, milk, curd, honey, Shankar ji becomes happy soon.
14 August 2023 – Monthly Shivratri (Adhik Maas) (Adhik Maas Shivratri 2023)

Shivratri of Sawan is considered very special. This date is the day of meeting of Shiva and Shakti. Shivratri of the Krishna Paksha of Sawan has been worshipped, now the fast of Shivratri of the month of Sawan will be observed on 14th August. There is also a fast on the sixth Monday of Sawan on Shivratri of Adhikasam, so its importance has increased. This fast is kept for the wish of getting married life, desired life partner.
21 August 2023 – Nag Panchami (Nag Panchami 2023)

Nag Panchami is celebrated on the fifth day of Shukla Paksha of Sawan. This day is dedicated to the serpent god, who adorns the neck of Shiva. Along with worshiping snakes, worship of Lord Shiva must be done on Nag Panchami. Without this the worship of Nag Devta is considered incomplete. This time on Nag Panchami, seventh Sawan Monday fast will also be observed.
31 August 2023 – Sawan Purnima (Sawan Purnima 2023)

Abhishek of Lord Shiva on the full moon date of Sawan reduces the malefic effects of the planets. Offering arghya to the moon on full moon removes lunar defect in the horoscope. The festival of Raksha Bandhan is also celebrated on Sawan Purnima.
Sawan Somwar 2023 Date (Sawan Somwar 2023)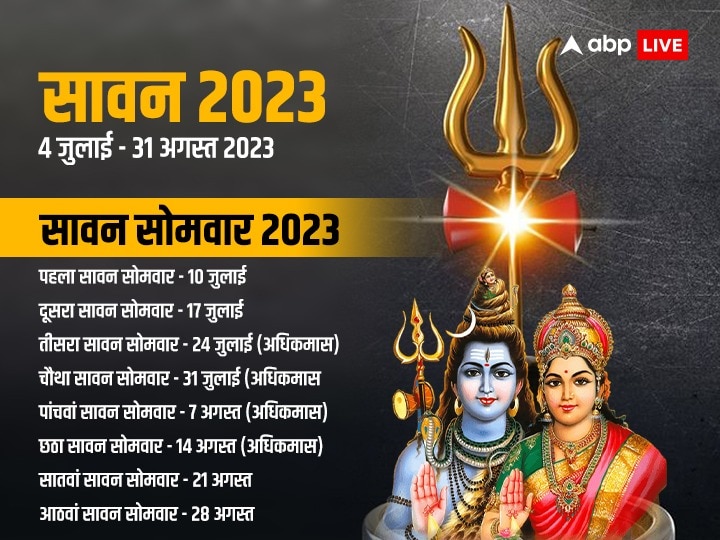 ,