July 22, 2023 4:34 PM IST
Indian Railway Mosque Notice: Railway has issued notice to remove encroachment on two big mosques of Delhi. The Railways on Saturday (July 22) issued a notice saying that two mosques in Delhi, Bengali Market Mosque and Takia Babbar Shah Mosque, located on railway lines, should be removed within 15 days or less.
The old Bengali Market Mosque is 250 years old and the Takia Babbar Shah Mosque is 500 years old. According to Aaj Tak, the Railways said in the notice that if the mosque is not removed within 15 days, the Railways will take action on its own. Railways claimed that these mosques were built on railway land.
Railway issued notice to mosques
Northern Railway said in its notice that it is informed that those who have unauthorizedly encroached the railway land. You people should voluntarily remove the unauthorized temple/mosque/mazaar constructed on the railway land within 15 days of this notice.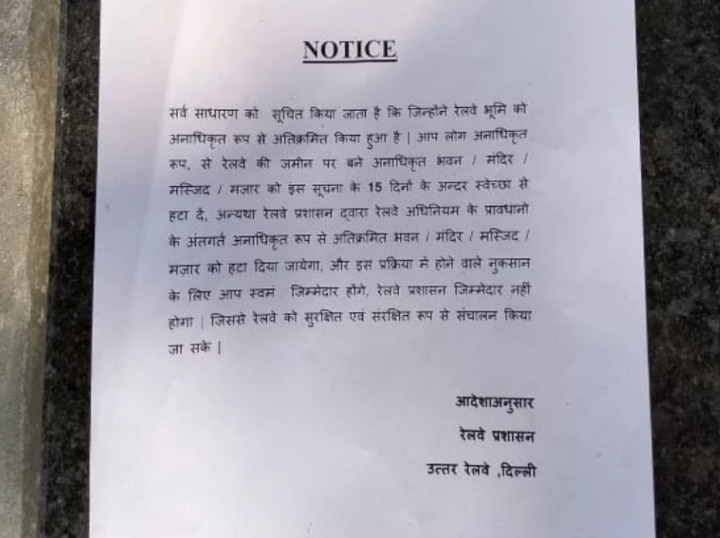 Railway will take action if not removed
Railways said that if they are not removed themselves, the unauthorized encroached buildings will be removed by the Railway Administration under the provisions of the Railway Act and you yourself will be responsible for the damage caused in the process, the Railway Administration will not be responsible.
Notice given to MCD as well
Apart from this, the officials of Northern Railway have also given notice to the Municipal Corporation of Delhi (MCD) office near a mosque and asked them to vacate the place. On this notice of Northern Railway, Abdul Ghaffar, secretary of Masjid Takia Babbar Shah, said that this masjid is more than 400 years old. Railways has also given notice to vacate the Malaria office of MCD built near this mosque and the notice has been pasted here.
Earlier in April this year, a portion of the mosque located in Bengali Bazaar was demolished in a joint anti-encroachment drive by the Land and Development Office, New Delhi Municipal Council (NDMC) and the Central Public Works Department (CPWD).
read this also-
'Rajasthan number-1 in crime against women', BJP bid on Rajendra Gudha – sacked his minister for raising his voice
,